Axitour AT-100 Tour Guide System
The Axitour AT-100 is an automatic tour guide system and is the perfect solution for museums, heritage sites and so on.
The AT-100 has various functions:
Your visitors can use this system to take a tour themselves;
You can guide your visitors yourself; as a tour leader you can also decide to which pre-recorded audio track they will listen.
Or you can have a workshop with 2 way communication between 2 guides and maximum 1 participant simultaneously.
It's a very easy-to-use system with many functionalities. It comes with an intelligent charging system, to upload your project with pre-recorded audio on 25 devices at the same time.
Audio parameters
Audio format – High quality audio compression
Dimensions (D x W x H) – 19.2 x 50.7 x 127.3 mm
Weight – 95 g (with battery)
Bandwidth – 50 Hz ~ 18 kHz
Dynamic range – 70 dB
Earphone output  – 3.5mm Jack x 2 (stereo)
Nr. of languages – Max. 32
Memory capacity – 8 GB, supports up to 32 GB
Operating temp. – (-10℃ ~ 50℃)
Battery lifetime – 18 hours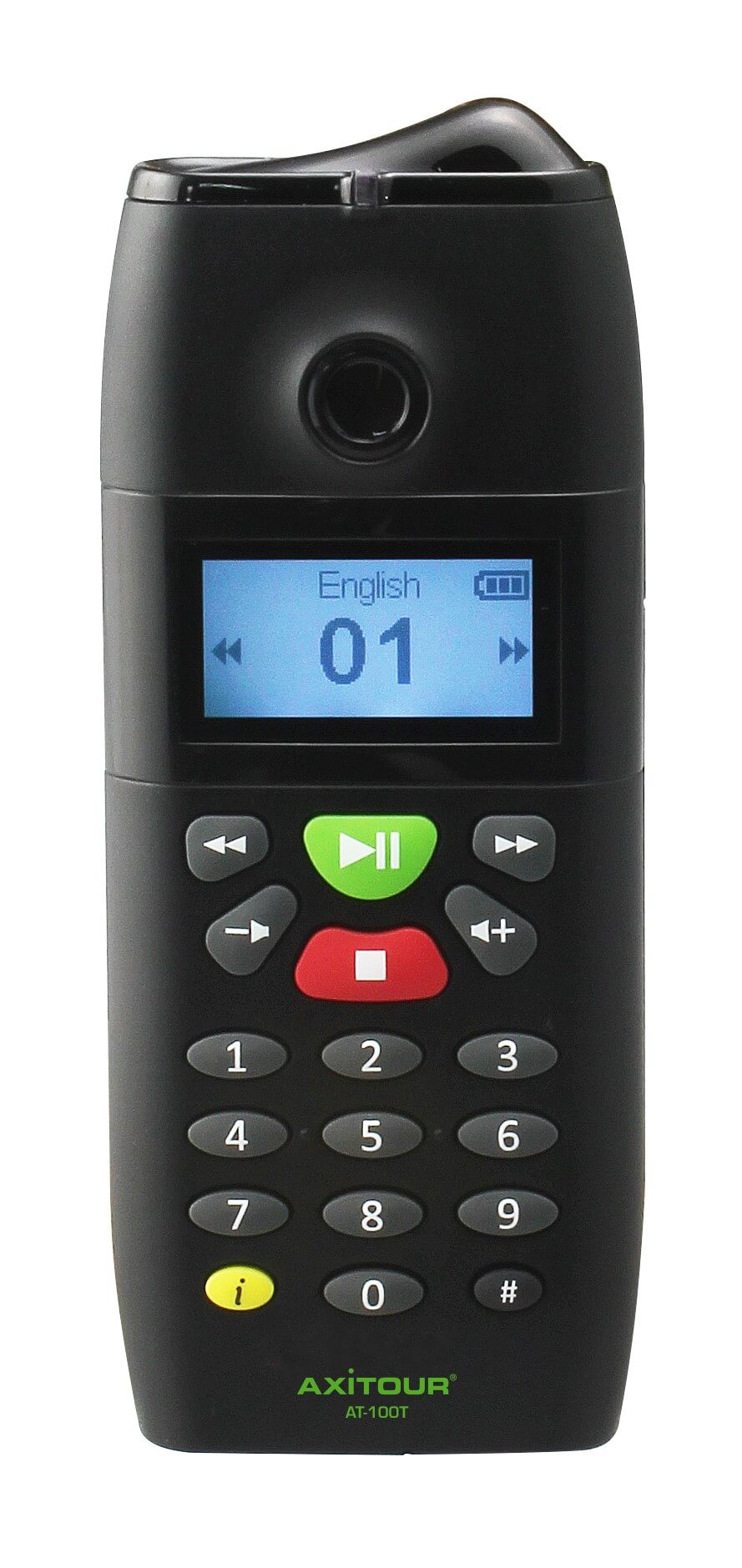 Sale and rental of communication systems
The Benefits of Axitour
Sale and rental
Advice from specialists
For large and small events
Order before 02:00 PM UTC+, delivered the next day
Customer Service always available
Various secure payment options
The coffee is always available for you in our showroom
Customer Service
Do you have a question? We are here for you.
Do you want an immediate answer? Call us between 08:15 AM – 05:15 PM UTC+ on +31 (0)180 691 400
For outside office hours, please call 06 14 16 45 02
Contact us at info@axitour.eu and we will answer your question as soon as possible.