Micker The wireless all in one hand microphone with speaker
The Micker, is an all in one battery-operated microphone, which has its own powerful built-in speaker. It provides a clear and powerful sound for small gatherings of up to thirty people. The Micker is provided with a speaker with a sound reflector that spreads the sound forward into space. Also, a feedback suppressor ensures that the microphone does not use the sound that comes out of the speaker (so it will prevent, you hear an echo). It's a quick and easy way to transfer your message to a group of people.
The Micker will be delivered with:
The Micker

Basic Charger (220V) + USB cable

Battery (3000mah 3,7V)
Lanyard
Etui/pouch for the Micker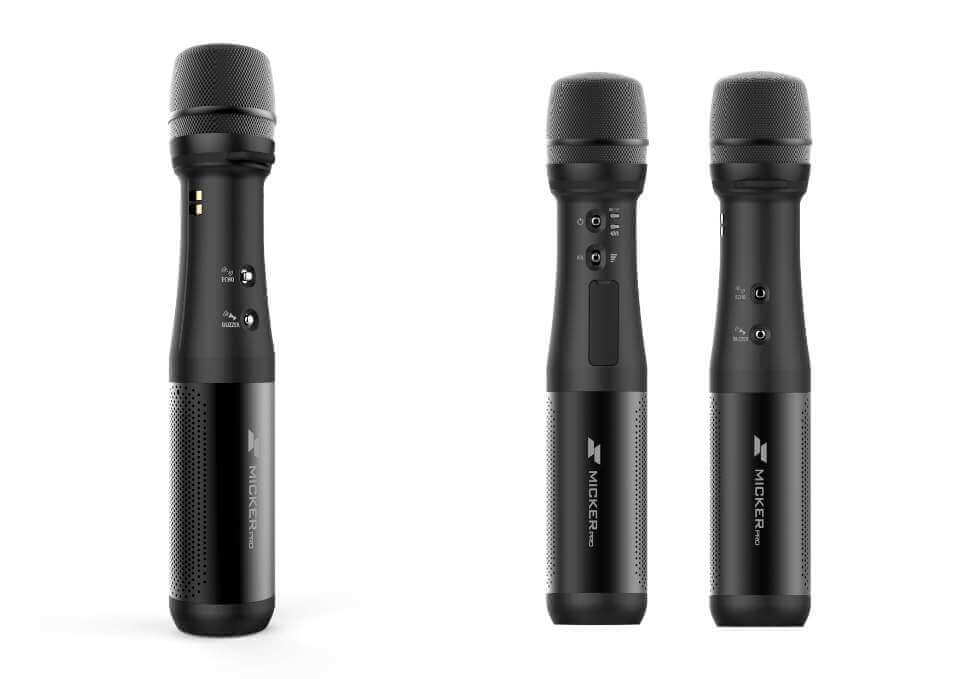 VIDEO: Micker – the wireless all in one hand microphone with speaker
Micker All in One Microphone
The Micker All in One Microphone amplfies your voice by approxamatly three times, to give you that extra boost to be heard in small to medium enviroments, with-out the need for extra equipments like a wireless microphone receiver, amplifier, speaker box and all with-out a single cable.
Set-up time is non-exsistant, just pick-up the Micker, turn on and start talking; Thats it!
Applications
Tour guides to speak to his guests;
Trainer / coach during Indoor or outdoor presentations for sporters / athletes;
Teachers for presentations;
Conferences for presentations;
Indoor and outdoor presentations;
Tours in a business building or fabric / plant;
Product presentations;
Seminars;
Church.
Summarized; the Micker is the best combined speaker and microphone in a device:
Compact
Perfect sound
Easy address a large group of people without voice upliftment
Perfect sound
Light in weight
Ergonomic
Specification
Max Power Output 5 Watts
Frequency Response 300Hz~15KHz ± 2dB
Hours of Battery use 18650 type – 2800mAh 6 hours
Charging time 5 hours (Basic Charger)
Charger 18650 type Battery 1CH charge (5V/650mA)
Battery 18650 lithium ion battery (2800mA)
Weight and Size 280g / Length 25cm
Configuration SpeaMic main body / Pouch / Strap
Customer service
Any questions? We would love to be there for you! An immediate answer? Call
+31 (0)180-691 400
between 8:15 am and 5:15 pm Mobile phone:
+31 614 16 45 02
(out of working times) Mail to:
info@axitour.eu
and we will reply your question as soon as possible.